Lume Cannabis Dispensary Gaylord, MI - Browse Our Selection
Lume Cannabis is the best recreational and medical marijuana dispensary in Gaylord, MI.
Here, you'll find an unrivaled selection of the finest flower in the country, right in your own backyard. All of our products are hand-crafted and hand-curated by the world's premier cannabis experts. And while we constantly strive to set a new standard of excellence in the industry, we know that the most important thing we can do is carry on the legacy of producing high quality Michigan-made goods that this fine state has been known for for centuries. As soon as you enter our store, you'll find an environment that's upscale yet inviting, and a staff that's knowledgeable and friendly. Both were designed to provide you with the best experience and cannabis products possible, with nothing to hide, all so you can enjoy them in life's pursuit of good times. Browse our expansive selection of indica, sativa and hybrid THC products, our assortment of small-batch
Lume CBD products
, limited-release Lume
apparel
and cannabis
accessories
in any one of our brick-and-mortar locations, or find all of your needs online. However you prefer to shop, we've got you covered with the highest quality cannabis in the country right here in Gaylord.
Stop By or Give Us a Call
Lume Cannabis Co. - Gaylord, MI
499 Dickerson Rd. Gaylord, MI 49735
Phone: (989) 252-7504
Ways to shop
Hours of Operation
| | |
| --- | --- |
| Sunday: | 9am-9pm |
| Monday: | 9am-9pm |
| Tuesday: | 9am-9pm |
| Wednesday: | 9am-9pm |
| Thursday: | 8am-9pm |
| Friday: | 8am-9pm |
| Saturday: | 8am-9pm |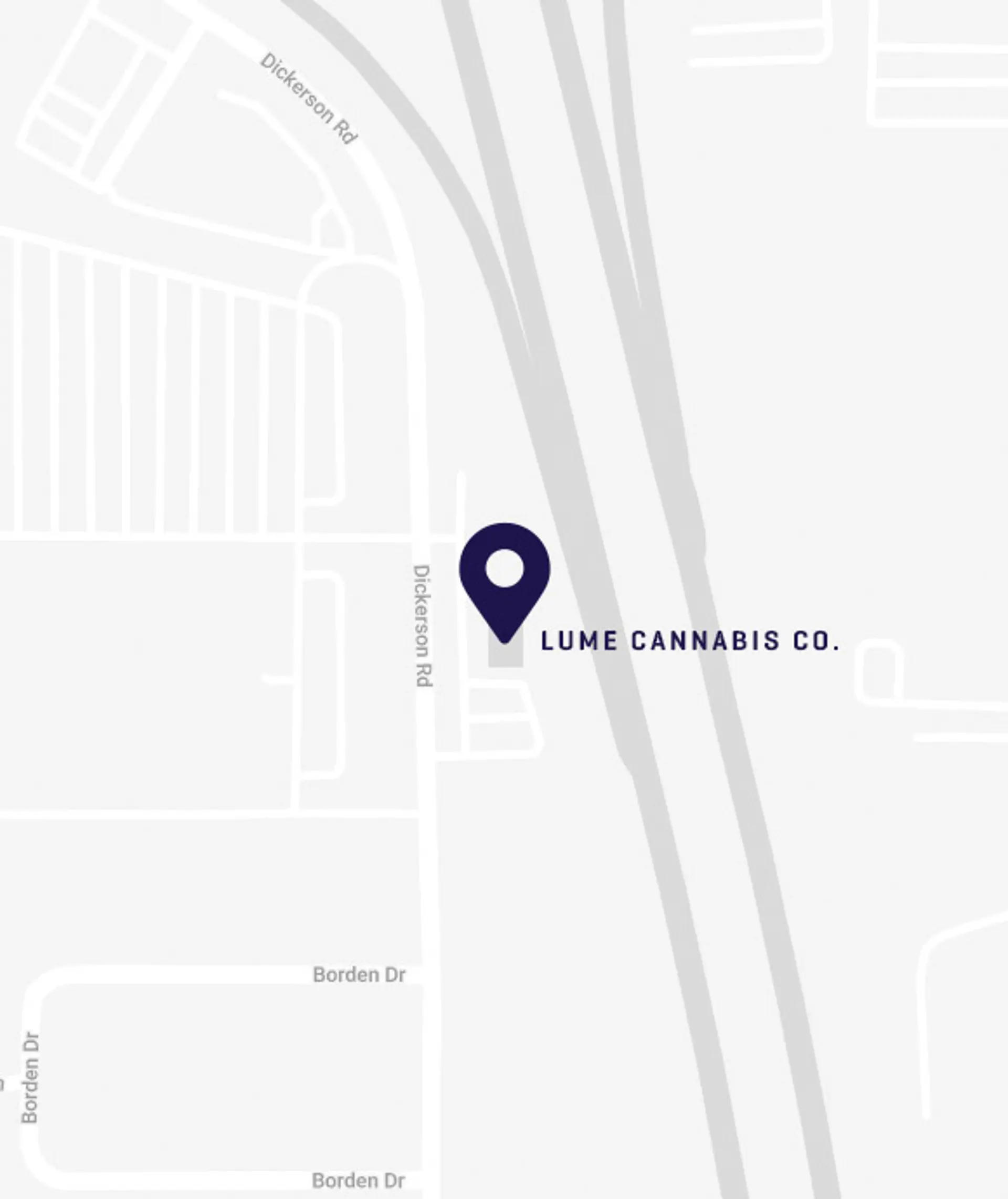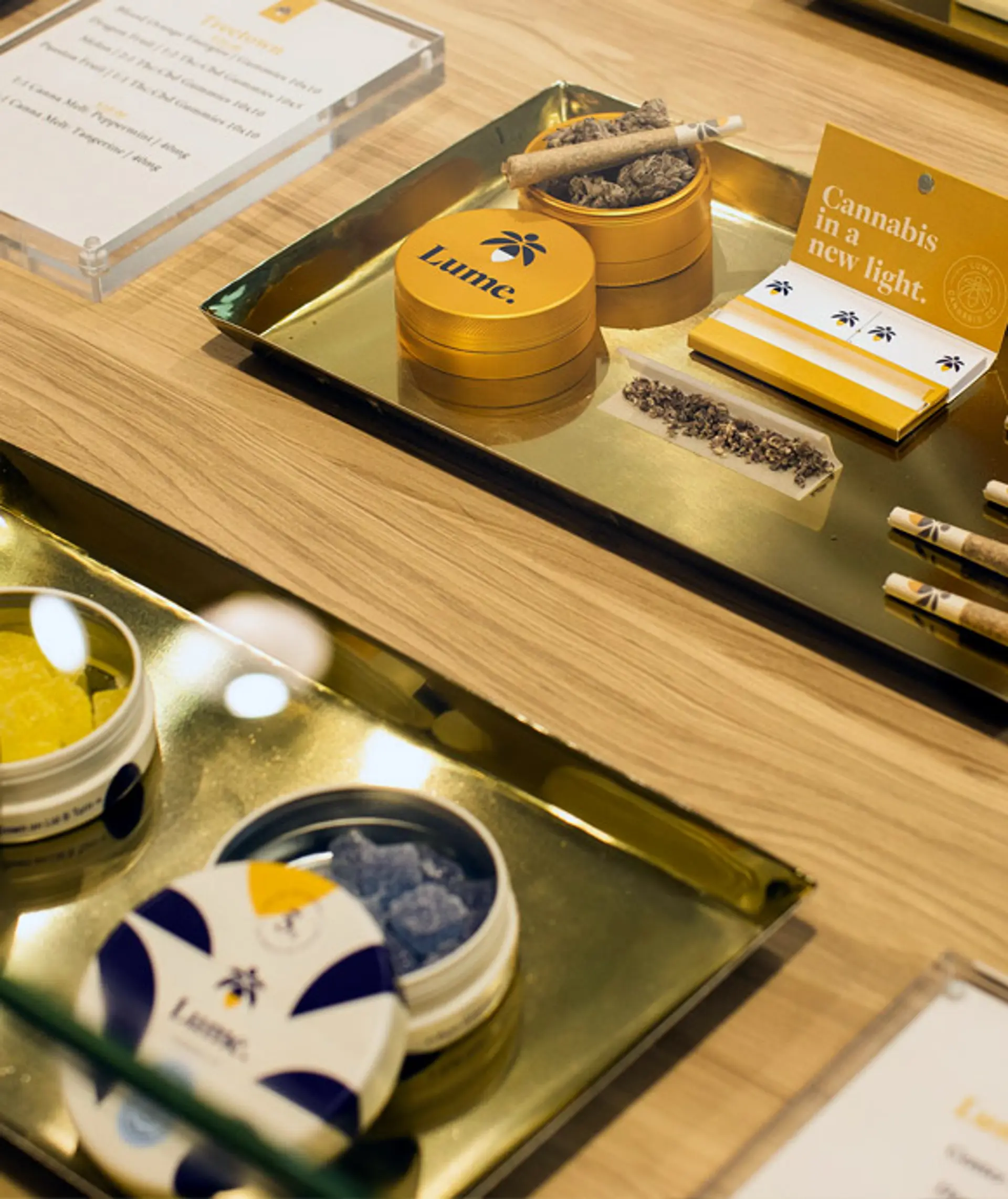 Lume Cultivated Cannabis Products in Gaylord, MI
Nearby, at our marijuana dispensary in Gaylord, MI, we proudly sell two types of cannabis products: Lume Cultivated and Lume Curated. All of our Lume Cultivated products refer to proprietary cannabis strains, hand-grown exclusively by and for Lume. They are cultivated, produced, and packaged entirely in-house so we can ensure the highest quality, technique and finished products possible.
This unique collection of cannabis includes an ever-evolving lineup of products that include some of the best
flower
,
pre-rolls
and
edibles
you'll ever enjoy. They are unequivocally some of the most stunning showcases of premier cannabis growing techniques, unparalleled horticulture, and unbounded innovation out there. And they're available to shop at dozens of Lume locations all across Michigan.
Key to the quality of this collection is a staff of world-renowned cultivation experts and state-of-the-art growing technology - both of which carefully nurture every one of our proprietary plants. As a result, we can confidently say that our Lume Cultivated line is offering the best quality and variety of cannabis in the country, bar none. Experience it for yourself by shopping in-store or online today.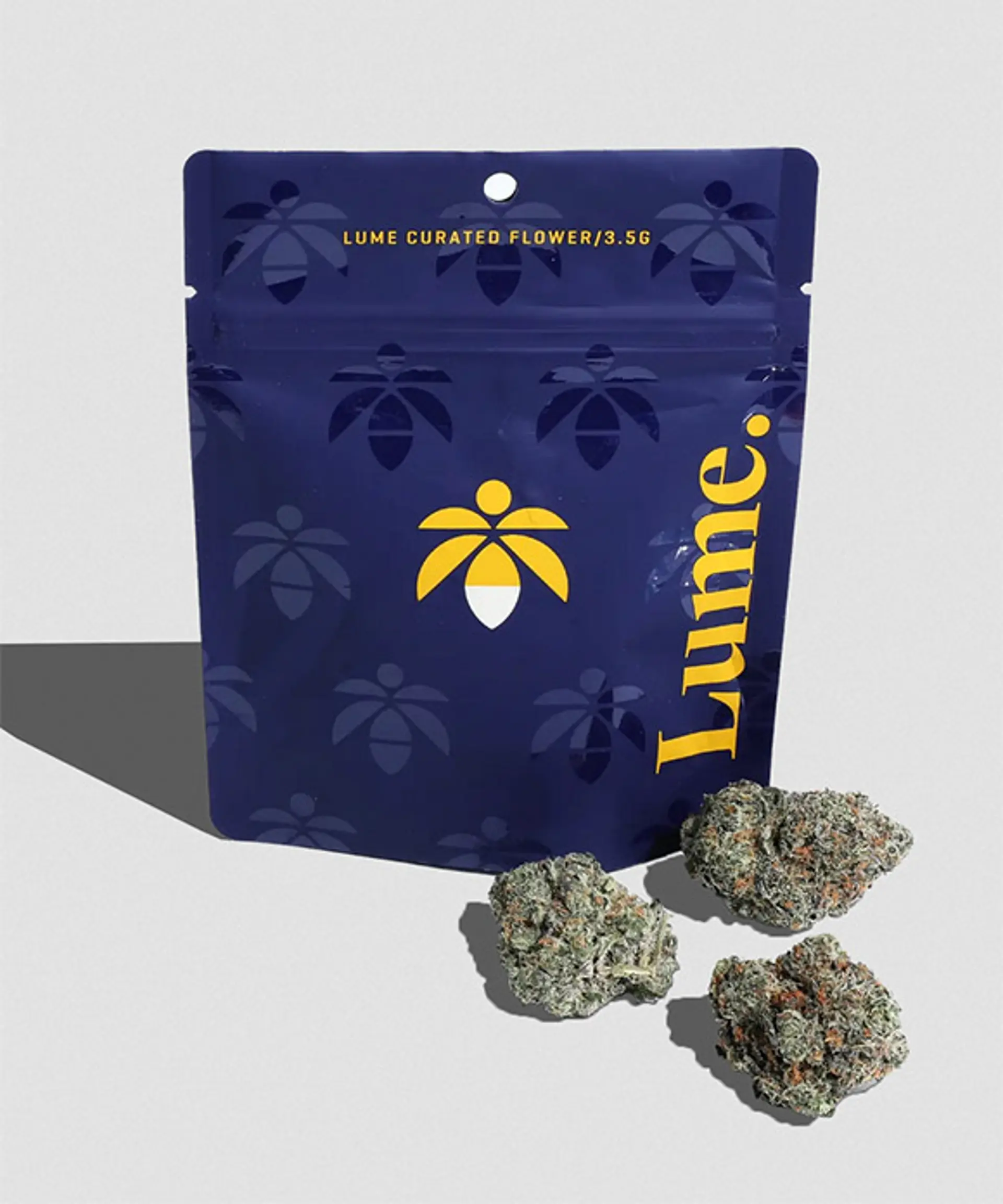 Lume Curated Cannabis Collection in Gaylord, MI
In addition to Lume Cultivated cannabis offerings, our stores also carry an elite collection of Lume Curated products. We have hand-picked and personally scouted every single one of these products from the most standout artisanal growers in the area. They are products that stand toe-to-toe with our standards of excellence, and that bring something unique to overall selection.
Universally, they display an array of exceptional genetics and legacy-worthy lineages – which to most, is reason enough to try them. On top of that, however, we've personally tested and sampled every single one of them, lending our Lume stamp of approval which we don't dole out very often.
While they aren't technically our own, we're proud to sell them at our shops. Whether you're looking for
flower
,
pre-rolls
,
edibles
,
vapes
, waxes,
shatters
, or something else, we've got an incredible selection for you to shop.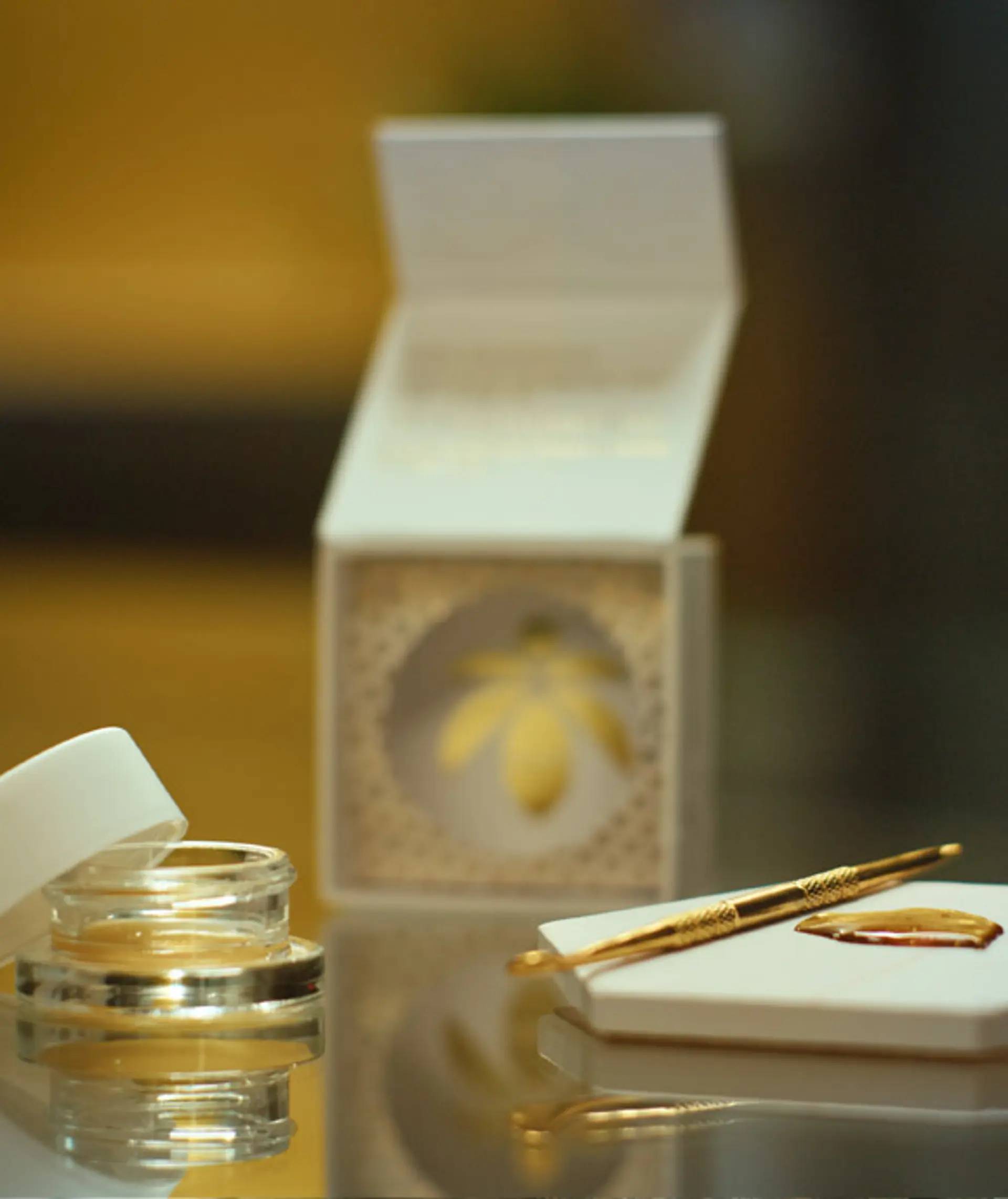 Lume Gold Label Cannabis Extracts in Gaylord, MI
On a quest for a more high-end experience or refined feeling? Then our Lume Gold Label is for you. It's a premier line of solventless extracts, meticulously crafted for our more experienced cannabis users. These top-tier THC extracts are the cream of the crop, quite literally—yielded from a reserve harvest of plants at our grow facility and extracted using completely organic methods. No compounds, chemicals, shortcuts or excuses.
When we craft them, we use a 100% solventless extraction method and fresh-frozen cannabis flower stored at -80 degrees Celsius to perfectly preserve all the terpenes and trichomes present in our plants at harvest. As a result, these products become extremely
concentrated
, clean, whole-flower extracts of the highest quality, purity and potency possible.
The Gold Label line includes: Lume Bubble Hash, Lume Live Rosin, Lume Jam and Lume Hash Rolls. Interested in tasting liquid gold? We highly recommend consulting a budtender to see if the Gold Label line is a good fit for you. Due to the potency of the products, we find that they're more popular with our most experienced users.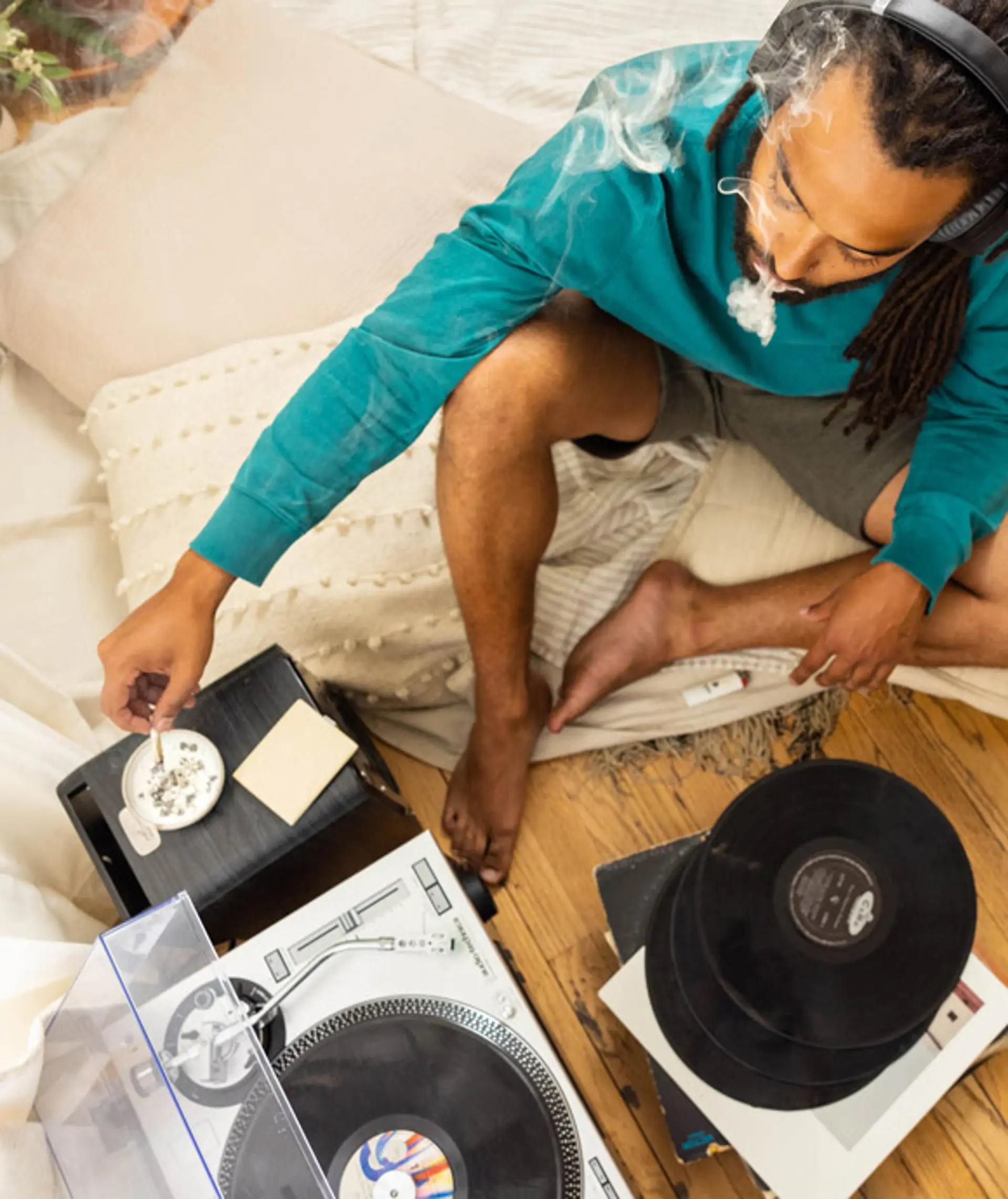 Providing Superior Recreational Marijuana in Gaylord, MI
At our cannabis dispensary in Gaylord we offer a variety of recreational cannabis products that are second to none. You can shop for every category of cannabis under the sun - buds, blunts, pre-rolls, tinctures, topicals, shatter, wax, etc. - to fit any high or occasion. It includes the highest quality THC products you can get your hands on in a combination of both cultivated and curated options.

We offer multiple ways to shop (in-store, online, curbside or via delivery) and our expert budtenders are always standing by to answer any questions you may have - from current inventory levels to which products may best suit your needs. Browse products by category below, or scroll down to shop our full Gaylord menu by Effects:

SHOP BY CATEGORY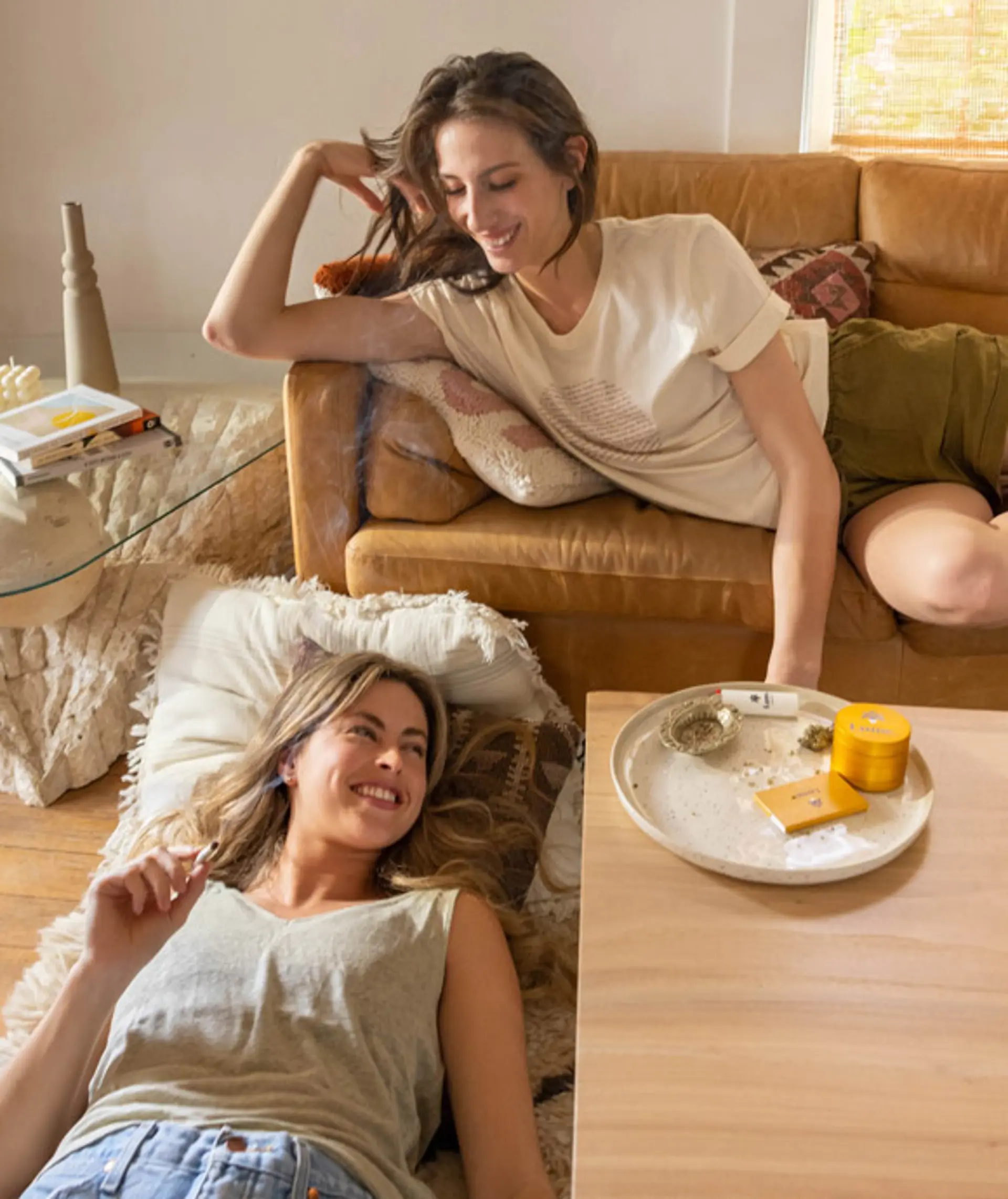 Find Cannabis Products by Effect
For a lot of us, the cannabis purchasing process is driven by a desired effect we're hoping to achieve: uplifted, energized, calmed, centered, sleepy, subdued, etc.. But since cannabis isn't a one-size-fits-all model, it can be difficult to achieve a consistent experience when using new products or trying new strains. So, through a process of sampling and testing, we've established the
Lume Effects System
: a system for categorizing the marijuana products we sell on a spectrum of indica to sativa, based on how they make you feel (all thanks to their unique terpene profiles). Within this system we've identified six unique Effects (Move, Focus, Center, Unwind, Recover and Dream) to which we've mapped all of our products. Need help sleeping? Shop Dream. Looking to go on a hike? Look no further than Move. Each effect has a range of products underneath it that can help tailor your experience on the very first try. Since we've introduced it, our customers have loved shopping by Effect. We invite you to try it and browse products by Effect below.
SHOP BY EFFECT