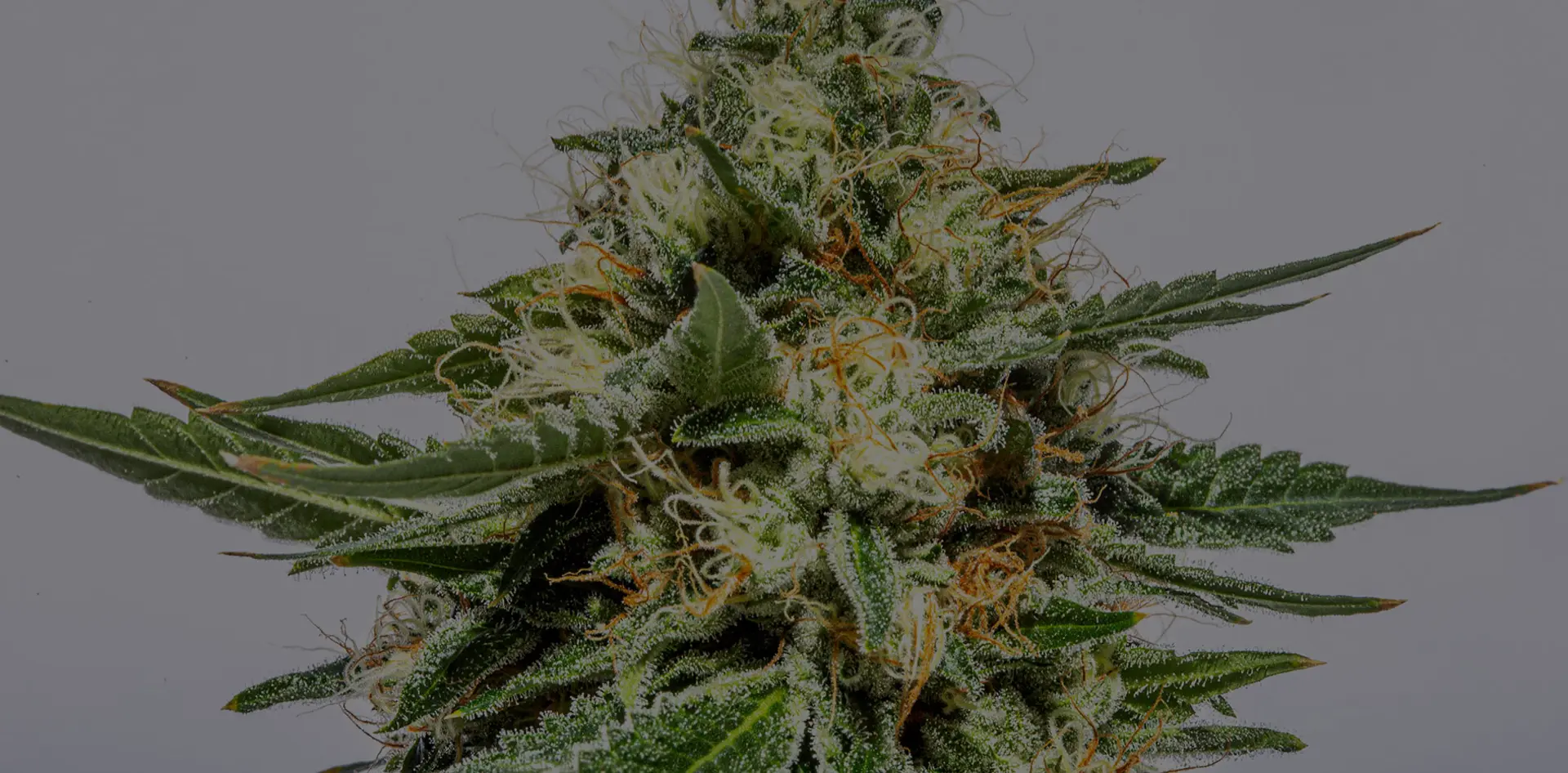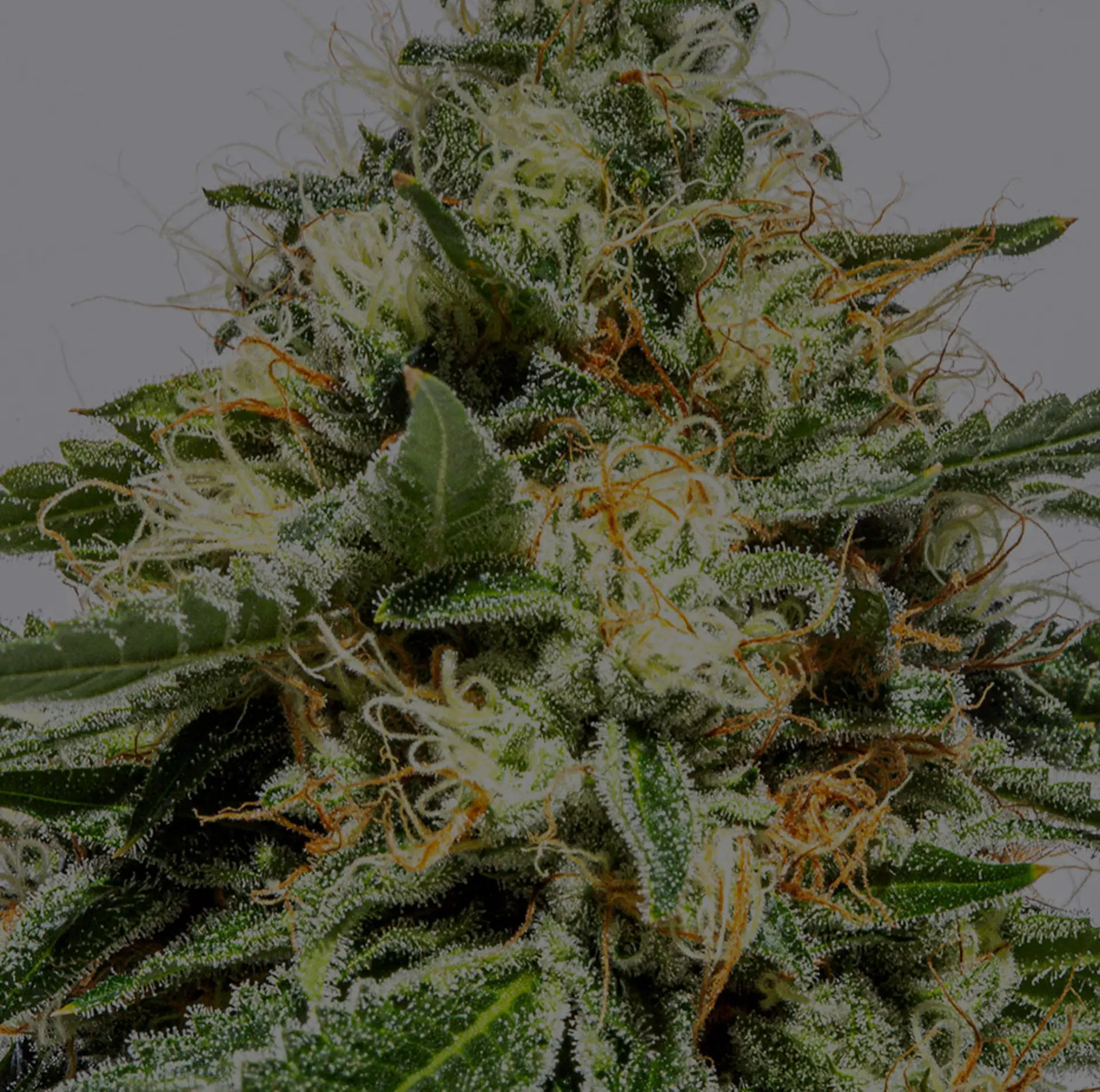 Grow Your Cannabis Knowledge
Most Potent Weed Strains 2022: Highest THC Strains
Hey! We have an updated version of this article for 2023! Click here to read it!
If you want to learn about the most potent weed strains 2022 has seen so far, we have the inside scoop. You'll find well known cannabis strains on this list, like Sour Diesel, 10K Jack Herer, and Gelato, as well as a few new strains that are making their way into this list for the first time.
These new marijuana strains include Super Jenny Kush, GMO Cookies, Chem de la Chem, and more. Whether you prefer an Indica, Sativa, or hybrid strain, you'll find the most potent strains of each type here.

But first, let's take a look at what makes a weed strain potent. It's not all about THC percentage as some think. Terpene content and other cannabinoid content also plays a huge role in how potent a strain feel when you use it.

Cannabis Strain Potency: The Real Story
The term "strain", though commonly used throughout the cannabis industry, is not entirely accurate when discussing marijuana plants. It would be more accurate to describe cannabis strains as "varietals" which are cultivated to achieve specific characteristics, such as higher cannabinoid content, greater resistance to disease, or unique terpene profiles.
Because of this approach by cultivation experts in the cannabis industry, some strains are good for chronic pain, while others may have energizing effects or help improve conditions like depression and insomnia. Additionally, some strains have higher THC content and more potent psychoactive effects.

How New Strains are Cultivated

Regardless of the terminology used, most cannabis users understand the term "strain" and what it means. All cannabis strains share many of the same characteristics, but through horticulture, growers have been able to cultivate and curate cannabis strains that have unique cannabinoid, terpene, and growth profiles.
Cannabis strains are generally created by selectively breeding cannabis plants together to enhance their natural characteristics. This process is helped along by the natural propensity for variety among the same strain. Even though you may grow 100 cannabis plants of the same strain, there will always be variation in the genetics of each individual plant.

One of these variations may be a higher THC content. Growers can then select that plant, breed it with another plant that has desirable genetics, such as large, fast growth. The new hybridized cannabis plants can then become their own strain, and be bred yet again to even further refine the genetic profile.

This is how new strains are created, and how existing strains are curated in a healthy way. When done correctly, this process often leads cannabis plants to become more potent and higher yielding. So, it's no surprise that we have seen some of the most potent strains ever recorded over the last 5 years. And we also shouldn't be surprised as even more potent strains are cultivated in the future.


THC Potency

The metric most often used when measuring cannabis potency is THC percentage. THC is the main psychoactive compound found in cannabis, so it makes sense to use this as the main marker, but THC% alone doesn't tell the same story.

Terpenes - the aromatic compounds found in cannabis and many other plants - also have an effect on how subjectively "potent" a strain may be for the average cannabis user. A higher terpene content can often make a strain with an "average" THC level feel more potent than strain with higher THC.

There are also at least 112 other different cannabinoids that have been found in cannabis plants.

CBD is a well known cannabinoid that has been studied in the treatment of pain, depression, insomnia, and more. Research shows that CBG could also be used therapeutically in the treatment of many diseases and health conditions, but much more study is needed to fully understand the potential of this cannabinoid.

While THC is not the whole story, THC is a potent psychoactive compound. So depending on how you define "potency" in cannabis, THC percentage may be the the most straightforward way to define the strongest weed strains of 2022.

To make it clear, in this article we are looking only at THC percentages when determining potency, but we will include terpene and other cannabinoid levels as well so you can find the perfect strain for your unique use case and needs.

Top Weed Strains 2022: Highest THC Content
Here's a list of highest THC strains we've seen so far in 2022.

Super Jenny Kush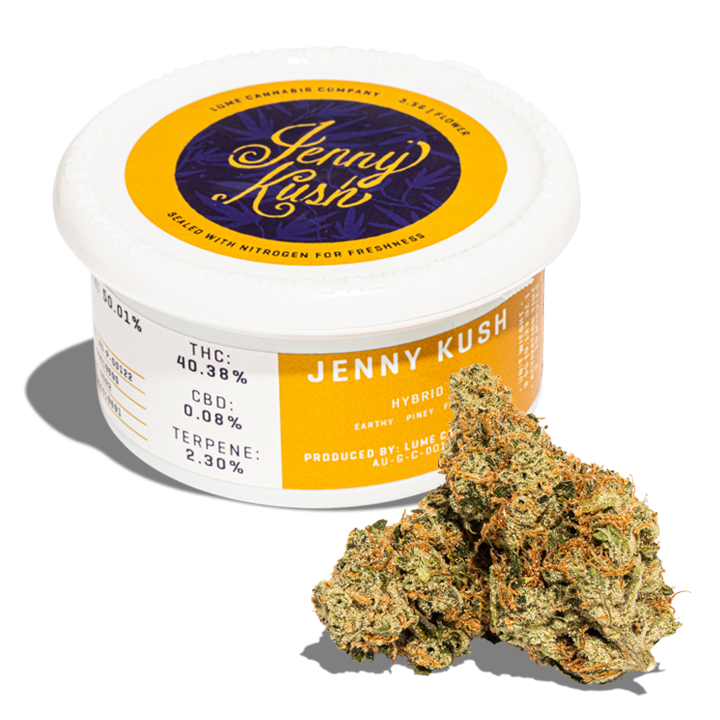 Type: Balanced Hybrid
Lineage: Amnesia Haze x Rare Darkness
THC Content: 38-45%
Total Cannabinoids: 40-50%
Terpene Content: 2.30%
Jenny Kush is a fan-favorite hybrid known for its earthy floral aroma, and potent uplifting high. It's named after the late cannabis activist Jenny Monson, a pioneer of cannabis activism who tragically lost her life due the actions of a drunk driver.
We here at Lume have become known as some of the best growers of Jenny Kush in the country, and we solidified that reputation by breaking the THC record for this strain. We expect Super Jenny to contend for the highest THC strain title for years to come.

We've dubbed the improved version of this high THC strain "Super Jenny Kush". It's a fitting name considering the stratospheric 40% THC content. We were honestly a little surprised when we got the test results back for the first time, so much so that we decided to send batches out to 5 other labs. The lowest result we got back was 38%, and the highest 45%.

The uplifting effect of Super Jenny is potent and soothing, leaving your body at ease and your spirits high. the potent, balanced mind and body effects make it no surprise that this one of our most popular strains.

We hope Jenny would be proud of this superior example of thoughtful and passionate cannabis cultivation.

Great for:

When you to be high as high can be
Enhancing life experiences
Going for a leisurely stroll
Dominant Terpenes:
Learn more about Super Jenny Kush >>>
The Toad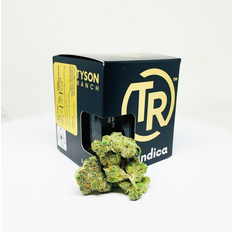 Type: Indica Dominant
Lineage: Chemdog OG x GSC
THC Content: 37%
Total Cannabinoids: 43%
The Toad is an interesting strain, with a unique story of its own. The Toad is exclusively grown by Tyson Ranch, a cannabis brand co-founded by celebrity and heavyweight boxing champ Mike Tyson.
It's an indica dominant strain, like many other high THC strains. According to Tyson Ranch, The Toad offers a quick-hitting high that leads to heady euphoria, followed by extremely relaxing effects and an sedating body high.
The Toad is very potent. Kevin Bell, the COO at Tyson Ranch, said that the Toad was originally sold to them by another grower, and they were extremely lucky to get their hands on this unique and potent strain.
Future #1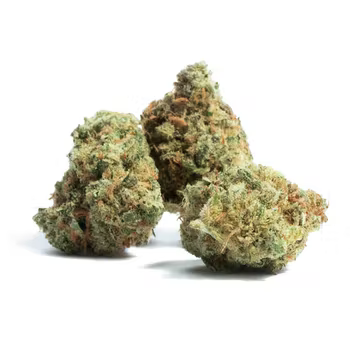 Type: Hybrid
Lineage: Gorilla Glue #4 x Starfighter F2
THC Content: 30-37.28%
Future #1 comes from 7 Points Oregon, and it's getting a lot of buzz due to its high potency. Some batches of Future #1 have tested as high as 37.28% THC. Before this test result, the accepted upper THC limit was considered 35%.
Although we now know that cannabis strains can achieve much higher results. Back in 2018, The testing facility, MRX Labs tested the sample 4 times to confirm the startling high result.
Future #1 isn't all THC, however, it also offers a high terpene content, leading to rich aromas of citrus and pine and tropical evergreen flavor. This strain is purported to provide a supremely giddy and uplifting experience, perfect for chatting with friends.
Don't so too much though, because of it's potency, it's been known to lead to intense psychoactive experiences that can be overwhelming.
GMO Cookies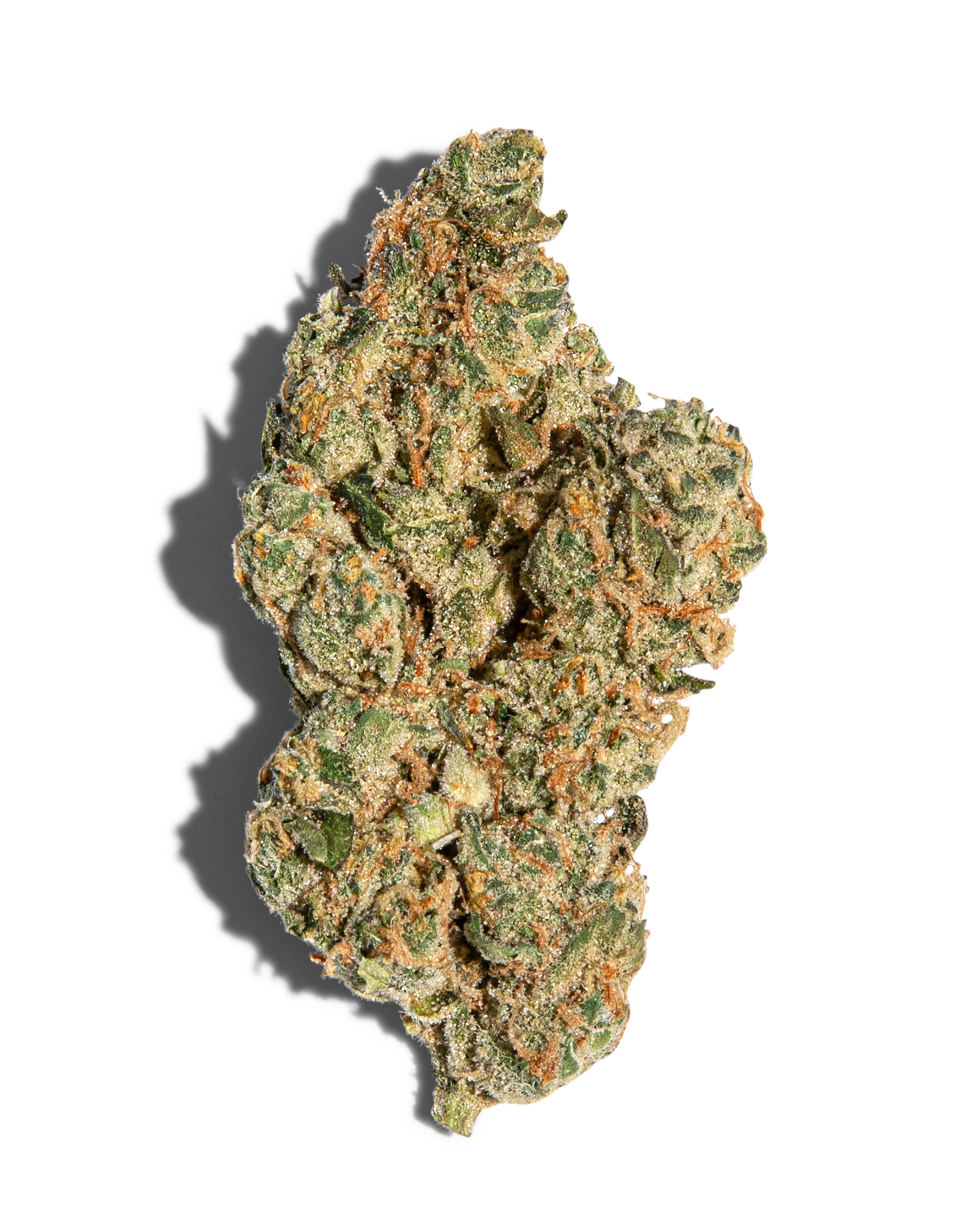 Type: Indica Strain
Lineage: ChemDog x Girl Scout Cookies
THC Content: 25-34%
GMO Cookies is always at the top of our list when talking about the strongest weed strains. It regularly tests over 30% and it's a favorite of our medical marijuana patients who suffer from insomnia and pain. It's weird science at its finest.
It's got an unmistakable aroma of garlic and coffee grounds, and it's bizarre, intoxicating and truly unique. One hit and the world crumbles away, lifting your mood higher than a kite while subduing your physical senses. The high is long, enjoyable, and perfect for late-night sessions.
Great for:
Getting ready for bed
People who suffer from pain and discomfort
Settling into a deep sedative state
Dominant Terpenes:
Limonene
Myrcene
Learn More About GMO Cookies >>>
Blueberry Crumble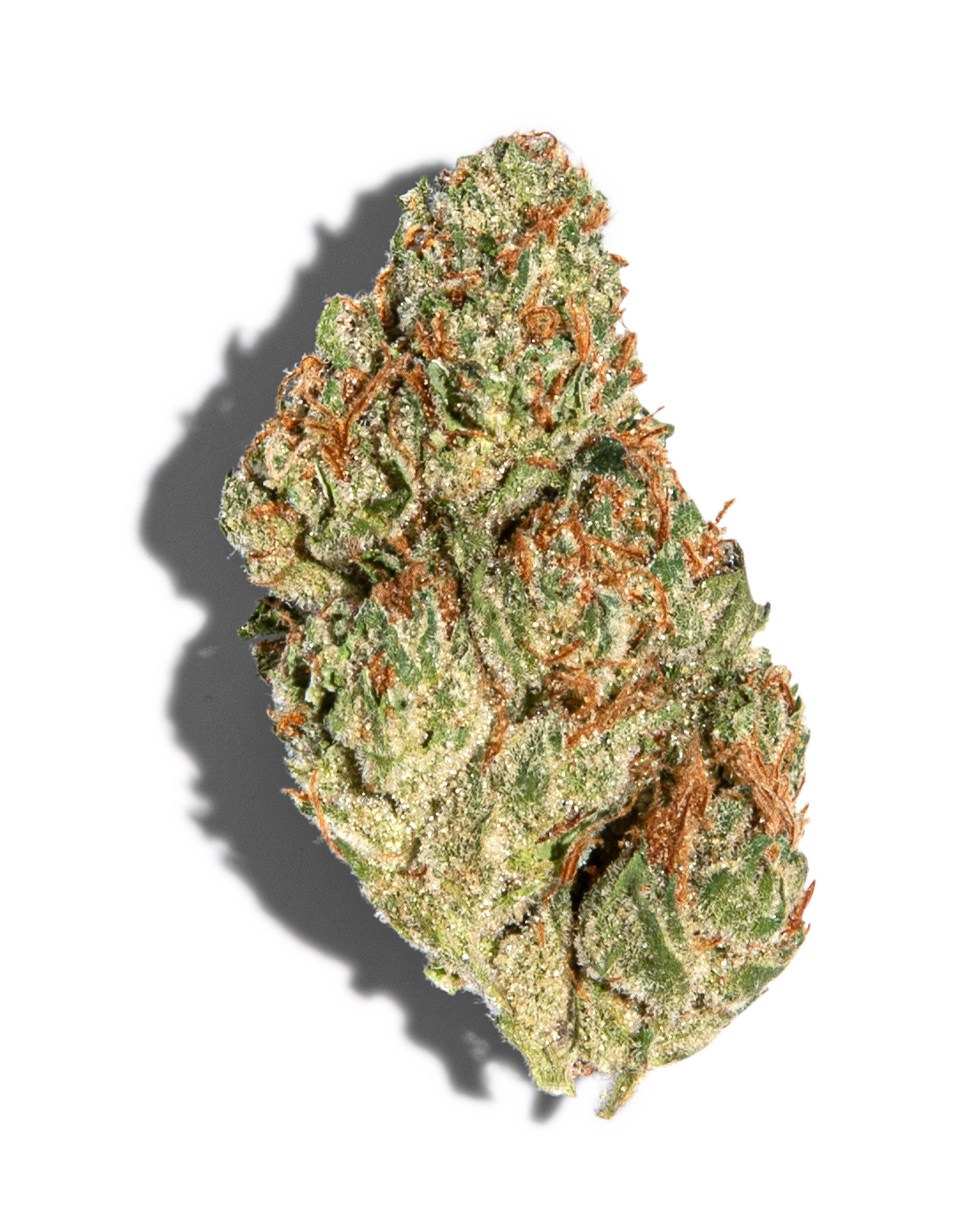 Type: Hybrid Strain
Lineage: Amnesia Haze x Rare Darkness
THC: 24-34%+
Blueberry Crumble has been rapidly gaining notoriety for being an increasingly high THC strain. It shares it's lineage with Jenny Kush, but is a different mix of the two genetics.
Because of this, it shares some of the attributes with Jenny: Relaxing, uplifting effects and high THC. Recent batches have tested as high as 34% THC. It also has a superior terpene and total cannabinoid content.
Blueberry Crumble tastes sweet with notes of flower and citrus, and has been often described as having a dessert like flavor.
Blueberry Crumble also has a startlingly different terpene profile than Jenny, resulting in it being more motivating and energizing.
This one can really get you up and moving, while still keeping you in a relaxed and chill state of mind. because of potency, and beautiful effect, we place Blueberry Crumble high on our list of best strains of weed for 2022.
Great for:
Getting active
Finding inspiration
Tackling projects around the house
People who suffer from chronic pain
People who suffer from migraines
Dominant Terpenes:
Carophyllene
Nerolidol
Humulene
Learn More About Blueberry Crumble >>>
Chem de la Chem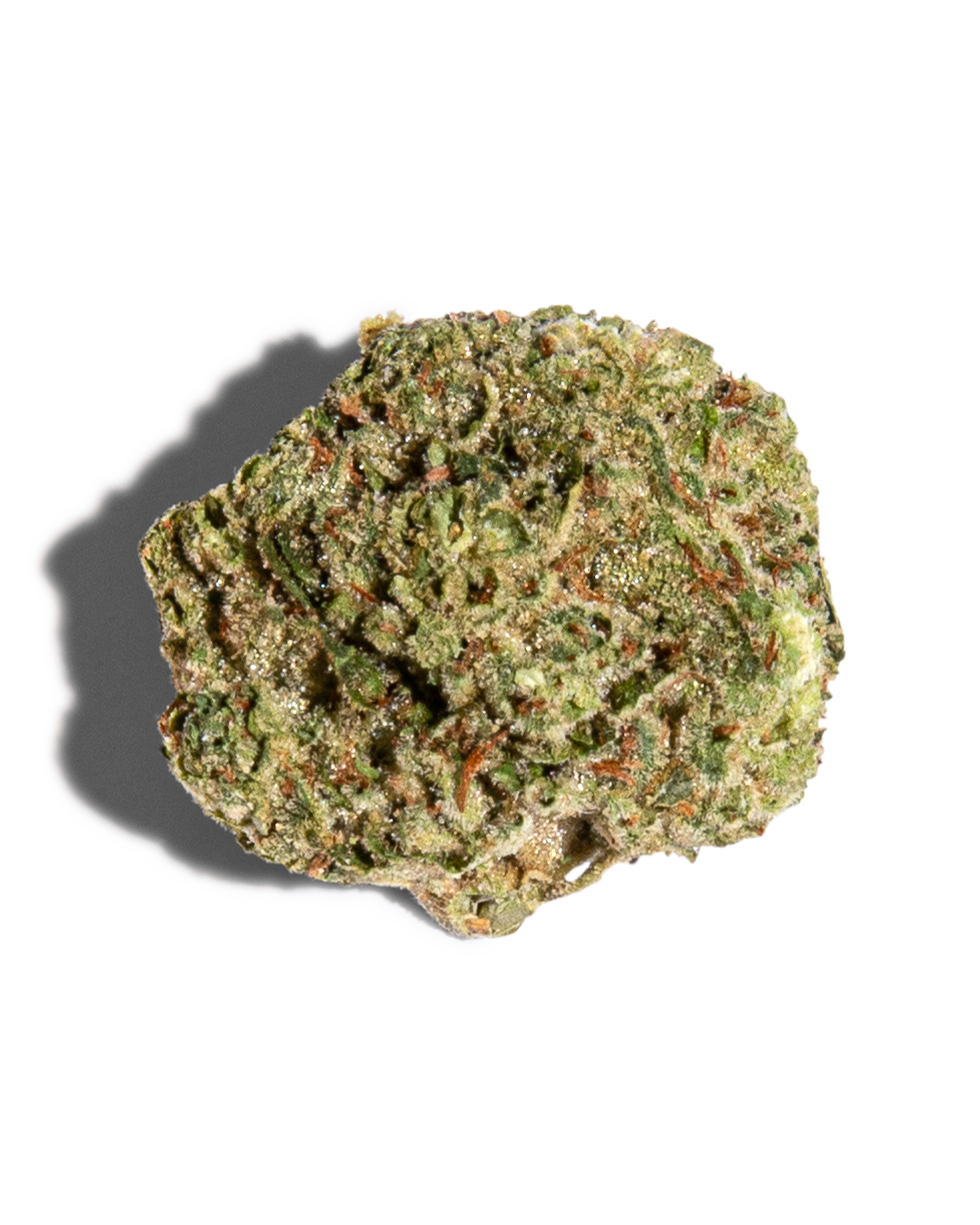 Type: Sativa Strain
Lineage: Chemdog x I95
THC: 24-30%+
This sativa dominant hybrid is bred from a cross of Chemdawg and I-95. These are two strains known for high THC, so it's no surprise that their progeny would share that attribute. Chem de la Chem provides a potent dose of THC and heady terpenes. Because of this, its zero-to-60 high comes on near instantly with 500 horsepower of pure euphoria.
Dialed focus and unabashed motivation eventually catch up for a social and spirited high you'll want to ride all afternoon. The heady effects of this strain often make it feel even stronger than it actually is, which is why it outperforms several strains that have tested higher.
Chem de la Chem has been steadily gaining potency over the last two years, so we anticipate future batches of this strain to test even higher than 30% high water mark it's set so far. This puts it in prime position on our list of best weed strains for 2022.
Great for:
Getting in the zone
Bursts of energy
Playing sports and working out
Dominant Terpenes:
Limonene
Myrcene
Linalool
Learn More About Chem de la Chem >>>
Strongest Strains 2022: Honorable Mentions
There are few marijuana strains that didn't quite make into our top picks, but they are still awesome strains nonetheless.
Brownie Scout: 30-37% THC
Ghost Train Haze: 25-27% THC
GG4: 27-30% THC
Godfather OG: 28% THC
Bruce Banner: 27-30% THC
Wedding Cake: 18-28%
Girl Scout Cookies: 20-32%
Frequently Asked Questions
Which is the Best Marijuana Strain for 2022?
We think Super Jenny Kush is the best strain for 2022, but all of the strains we included in this list are clear winners and sure to satisfy based on your unique preferences. Ultimately, we would recommend you try small doses of each of these strains, then see first hand which one gives you the best effects. Cannabis effects are highly dependent on your unique biological characteristics as well as your THC tolerance.
There is also a larger discussion around use cases, as that can be an important factor as to which strain is "the best". If you are using cannabis late in the evening, a potent Sativa like Chem de la Chem is probably not the best choice. It will likely keep you awake with its energizing effects.
However, if you're going out with friends or doing something active, Chem de la Chem would likely be a great choice. Late nigh smokes are probably better with a heavy-hitting Indica, like GMO Cookies, which will relax you and sedate you.
What are the Best New Weed Strains for 2022?
There some really exciting new weed strains for 2022. Super Jenny Kush takes the cake, of course, but a few more to look out for are:
Are High THC Strains Good for Beginners?
This is a tough question, because the level of THC that actually enters your bloodstream is dependent on a variety of factors. If you take a smaller puff, you'll likely get a lower dose, which we would always recommend for beginners or occasional users.
Generally speaking, we recommend moderation, and starting slow, especially when using high THC strains. Just do a little, then see how you feel before consuming more. And as always, make sure to give your body ample time to see the full effects. THC can take a long time to reach full effects, depending on how it is consumed, so always err on the side of caution.
Conclusion
Well, there you have it: the inside scoop on the highest THC cannabis strains of 2022. We hope you found this article interesting and hope you have fun trying one or a few of these striking and impressive marijuana strains.
Do you have more questions or suggestions for this article? We are always here to help. Send us an email and we would love to speak with you!
More Information
If you'd like more information about Lume Cannabis Co. or any of the strains listed here, we would be happy to answer all your questions and point you in the right direction.
Just contact us, and we will be happy to help.
Customer Support