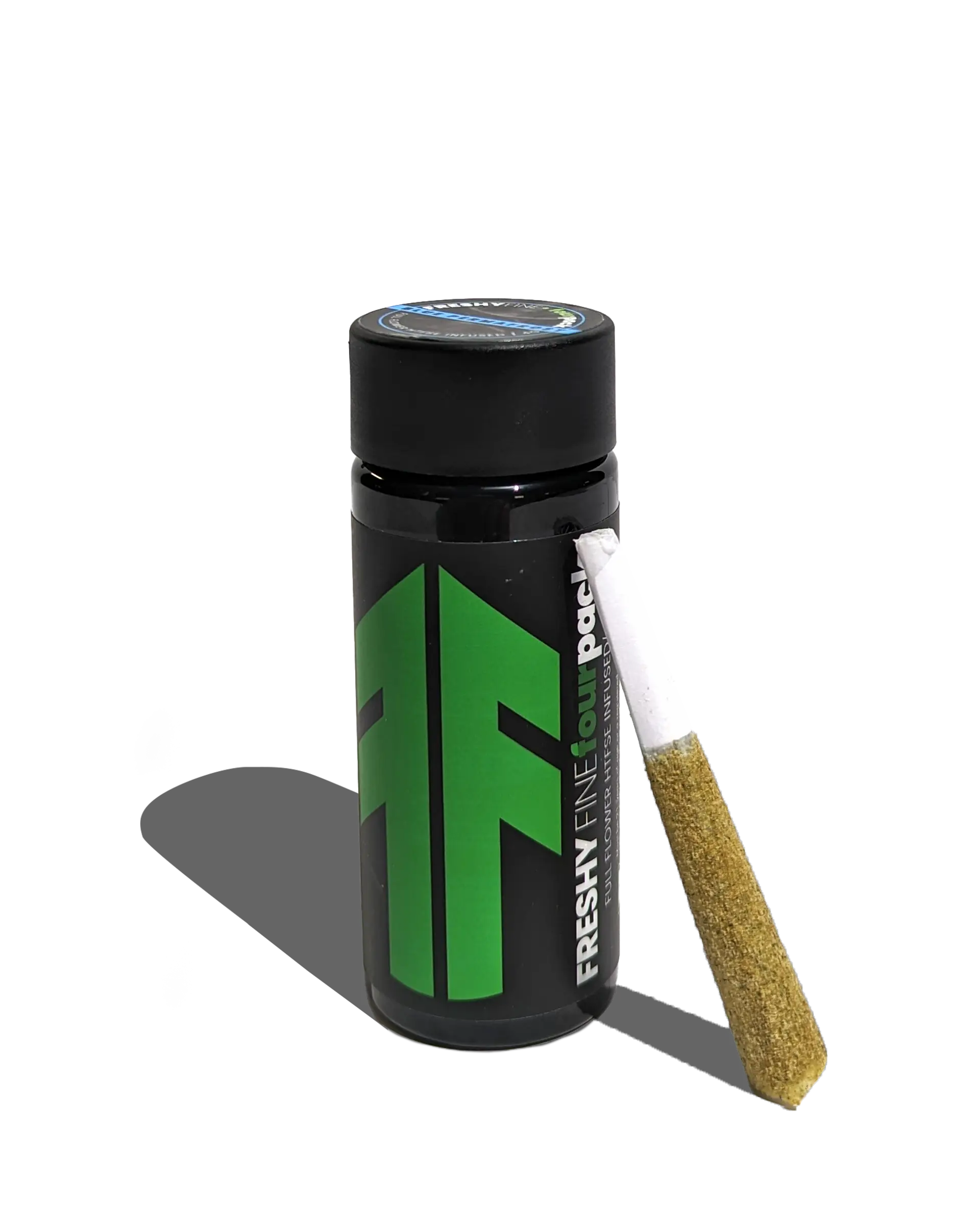 FRESHY FINE
Banana Punch Infused Preroll 4-pack
QUANTITY (TOTAL WEIGHT)
In order to add items to bag, please select a store.
Introducing Freshy Fine premium HTFSE Infused 4 Pack, each jar containing 4 grams of high-quality cannabis. These tarantula style infused pre-rolls are made from a single source, with all the materials coming exclusively from Freshy Fine. They do not procure outside inputs for production, ensuring the highest level of quality and consistency in every batch. These strain-specific pre-rolls feature full flower, with zero trim or shake used in the production process. They use the same strain for the flower, oil, and kief, with no artificial flavoring added. HTFSE (High Terpene Full Spectrum Extract) oil is CO2 extracted, and flavored with cannabis derived terpenes extracted in-house from the same strains used in production. The high-quality kief used in the pre-rolls is pulled from the same harvest batch as the flower. Each unit contains 1 gram total weight, with 0.7g of flower and 0.3g of oil & kief. The HTFSE Infused 4 Pack is the ultimate choice for connoisseurs who demand the very best in quality, flavor, and potency. Try it today and experience the difference! • Banana Punch is a rare evenly balanced hybrid strain (50% indica/50% sativa) create through crossing the infamous Banana OG X Purple Punch strains. Perfect for any hybrid lover, this bud packs a heavy hit of flavor and full-bodied effects that will leave you happy and lifted for hours on end. Banana Punch packs a sweet tropical pineapple flavor with mouthfuls of ripe banana and spicy berry. The aroma is just as delicious, with a sweet and sour citrus overtone that's accented by a notable hint of rich banana. The Banana Punch high will have you even more head over heels, with a relaxing overtone that will have you kicked back and totally at ease. The effects are definitely creeping in nature, sneaking up on you before suddenly taking hold. Your mind will feel euphoric and focused with a sense of happy creative energy while your body settles down into a state of pure calm and ease.
About FRESHY FINE
Freshy Fine is a caregiver rooted, family owned & operated producer of high quality cannabis products. With both cultivation and processing under one roof, Freshy Fine products are fully single source and can be counted on for top quality and consistency.